The largest digital currency is up around 6% to close out the weekend.
The cryptocurrency market moved higher Sunday after Bitcoin (BTC) jumped 6% to $4,100 — a price last seen on Christmas Eve.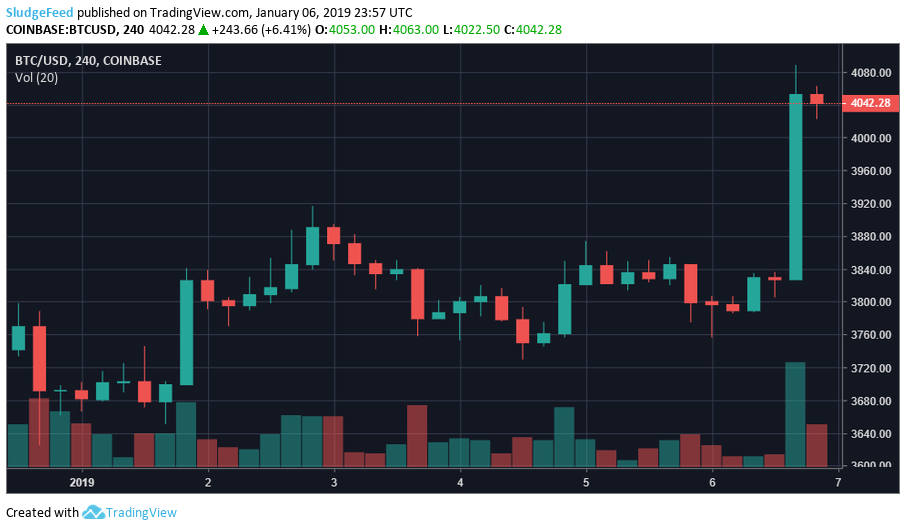 While the weekend rally wasn't driven by any identifiable fundamental event, the charts of most major coins have been building toward a breakout for the last 2 weeks.
Notably, both Litecoin (LTC) and NEO (NEO) have posted double-digit gains over the last 24 hours while many other projects, including Nano (NANO), Bitcoin Cash (BCH), Cardano (ADA) and Monero (XMR), are currently up over 5%. The charts for most of these projects indicate that technicals could be the major factor in pushing the market higher.
A look at the 1-month chart for the AltDex 100 Index (ALT100), a benchmark index for large-cap cryptocurrencies and tokens, reveals that the market has been trending higher since mid-December. The ALT100 has is up 4.2% in the last 24 hours, breaking out of the 45-48 range it had been in for most of the past month.
The upcoming weeks will be pivotal for the crypto market, as bulls look to push Bitcoin back into the $5,000-$6,000 range. On the flip side, bearish traders will look for Bitcoin to be turned away around $4,200, likely sending the largest digital currency below $3,000. Notably, Tone Vays, a former Wall Street trader turned cryptoanalyst, is 85% certain that Bitcoin has not yet bottomed.