After few months delay, the TRAI DND app is now available on iPhones. Use the new TRAI DND app on your iPhone to block unwanted calls and messages. Here's how you can block spam calls/SMS on your iPhone.
TRAI DND – Do Not Disturb app finally made its way to the App Store over the weekend and can be now downloaded by iPhone users in India. The app from Telecom Regulatory Authority of India will allow users to report telemarketing calls and messages. The app not only will help users report unwanted calls or messages to their respective telecom service providers but will also help identify telemarketing callers that haven't registered themselves.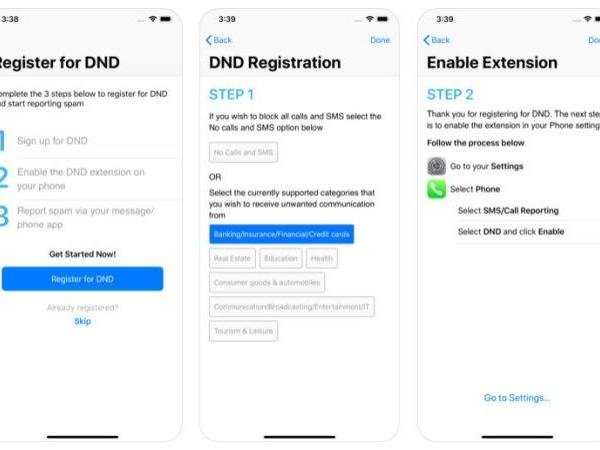 The new TRAI DND app has two major functions – users can register their mobile number under DND (Do Not Disturb) using this app and second is reporting spam calls/ SMS after DND registration.
"Registration of mobile number under DND (Do-Not-Register) will take up to 07 days after putting the request with respective telecom service provider (TSP)," the App Store listing describes the app.
Talking about how will this app report calls/ SMS on your iPhone, the TRAI DND app will auto-create complaint registration message to send to respective telecom service provider. The Complaint registration SMS will be sent to toll free number 1909 once the user checks the content of the message. Users will also have to write additional feedback for better understanding of the reported number.
The App Store listing adds, "TRAI DND App will not block any SMS/Calls from authentic businesses/entities that you have subscribed too, e.g. your bank, food delivery apps, travel/taxi apps etc. However, user will be responsible for any loss occurred if they report these Call/SMS."
How to register for DND using TRAI DND app on iPhone
To register for DND, users will have to complete three steps and then they can start reporting spam calls/ messages.
Step 1 will be to sign-up for DND
Users will be asked for what messages they wish to continue getting for example from banks or health firms.
Step 2 will be enabling the DND extension on your iPhone
Users will have to go to their Settings on iPhone and select Phone > Select SMS/ Call reporting; Select DND and click enable
Step 3 will be enabling the extension for reporting calls.
To enable, go to phone app on your iPhone, right swipe on a number and select report button to report spam.
To report SMS, go to your message app and select the message and tap Report Message at the bottom of the message content.