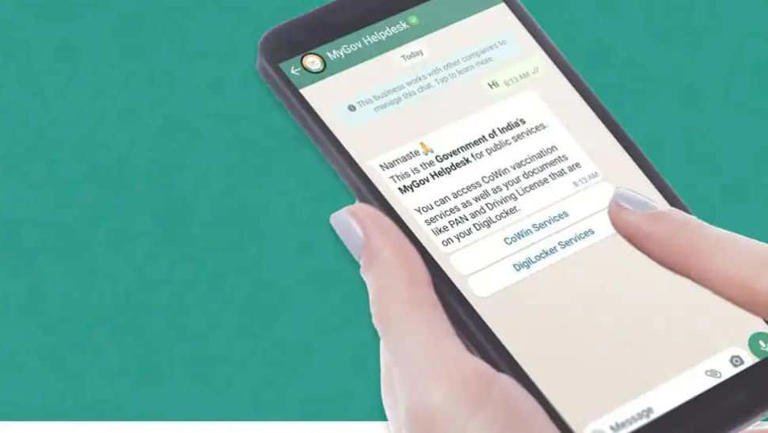 Whether at work or at home, WhatsApp has become essential. For tech-savvy consumers, WhatsApp is undergoing significant transformation. As a result, WhatsApp can now be used for purposes other than texting and calling. Without visiting any government offices, it is possible to use WhatsApp to access important personal documents. MyGov provides a WhatsApp chatbot-based service that makes use of Digilocker to access important official documents.
In spite of the Digilocker project's earlier this year introduction, many users are still unaware of the services. Additionally, users will have quick and simple access to all the papers they need at once. Simply launch the MyGov Helpdesk chatbot on WhatsApp to get started.
To use WhatsApp's Digilocker capabilities, you must authenticate the account. Following that, you can download several documents using WhatsApp, including your PAN card, driver's licence, and vehicle registration certificate. The MyGov Helpdesk on WhatsApp will offer a variety of services to help citizens.
The list of documents available for download using WhatsApp from Digilocker is as follows:
Class X Marksheet
Class XII Marksheet
CBSE Class X Passing Certificate
Driving License
Insurance Policy – Two Wheeler
Vehicle Registration Certificate (RC)
Insurance Policy Document (Life and Non-life available on Digilocker)
How you can download the aforementioned documents from WhatsApp via Digilocker:
Create a Digilocker account.
Open your WhatsApp.
On WhatsApp, Send 'Hi' or 'Digilocker' to 9013151515.
You will get the welcome message that reads, "Welcome to DigiLocker Services to download/issue your documents."
Submit your Digilocker account details.
Submit your Aadhar card number.
Fill up the OTP.
Click on the submit button.
Now, you can download your documents from Digilocker.